The Music Caterer Photo Booth is a one-of-a-kind experience that is totally exciting and unique! The entertainment factor alone is a big part of the Photo Booth's appeal. As photos are taken, they are instantly displayed on screens inside and outside the booth. Crowds will form to watch and cheer on the booth's patrons…a great way to get the party started and the guests involved. Photos are in-hand within 1 minute!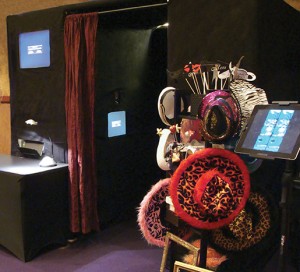 Our elegant, custom designed Photo Booths are large enough to fit up to 12 people, are handicap accessible and provide an exterior screen to view all the action behind the curtain. Prints are double strips, one of which goes to the guest, and the other is placed in your photo album which you take home at the end of the night.
We have packages with timeframes to cover just the dance portion of the evening, or for the full reception – from cocktail hour on through the night.
To complete all of your entertainment needs, combine the Photo Booth with our outstanding DJ Entertainment Services at great combo pricing!